The Distribution Economics Institute of Japan
Services
In-store marketing research Project
Our in-store market research working group, the Shopper & Merchandising Development Project (SMD), is composed of executives from the healthcare product and food industries as well as our own research experts. The work of the SMD is designed to enhance its members' marketing decision making and pave the way to better in-store marketing.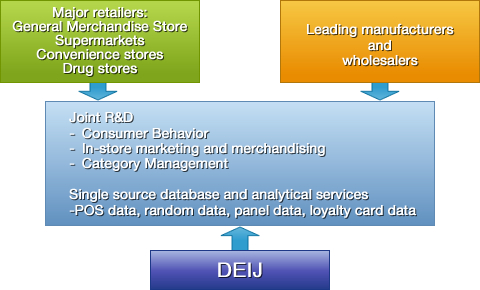 Research and survey areas include:
- Consumer behavior
- Use of POS data
- Use of loyalty card data
- Category Management
- In-store promotions
- Assortment and space allocation
Research and surveys are conducted across the retail spectrum to include general merchandise stores, supermarkets, convenience stores and drugstore. Many of the workshops focus on interrelated topics relevant to a number of different retail segments. Workshop participants have the opportunity to gain valuable insight through POS data and research results.